Posting has gone a little sparse as the festival heats up--it seems like every day there are more people than the day before. The Tuesday nights now look like Saturday nights in the streets, and it feels as if we are headed toward some sort of Continuous Weekend, the dream of many Spring Break coeds. I love the crowds for the sake of the show, but otherwise I kind of miss how quiet and digestible the city was when I first arrived.
Here are excerpts from some of the press we've been receiving here:
THE GUARDIAN:
"A penetrating and ebulliently performed account of one man's realization that life in big business is a contradiction in terms. Daisey spoofs the glazed-eye fanaticism of life in the rat race with exuberant relish."

METRO:
"A fascinating and hilarious account from an intelligent performer. Highly entertaining insights...the audience is kept laughing with neat observations on the American Dream morphing into delusion."

SCOTSMAN:
"Engaging, friendly and high octane...funny and fascinating."
Also, I meant to provide a glimpse of this outstanding poster that fuses text messaging and church attendance: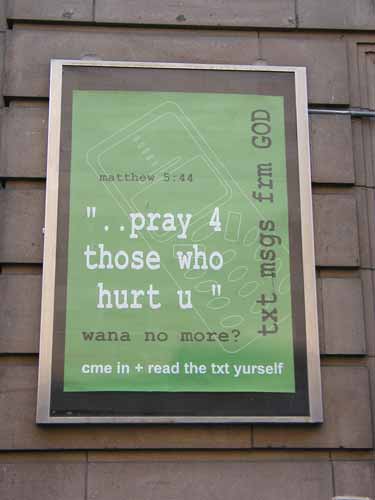 Great, isn't it?