Wonderful first preview! What a relief to have that out of the way. Tech went gloriously, the staff is sharp as always and a very full house--I could scarcely ask for more. I had to feel out the space, which made the first half of Act One a little less focused than I like, but I got the hang of playing the thrust configuration after that, and Act Two was fully under my control. I think that really bodes well for our run.
After the show we did tech notes, then met up with Rob O'Bannon, old
UP IN YOUR GRILL
veteran and recent expatriate to Japan, where he's been teaching for the last 4 years. We went up the hill to
Septieme
for some great conversation and catching up--I think the years have been good for Rob, whom I always liked a lot, but now he's seasoned. Okay, that makes him sound like some kind of beef, and it's true that he has lived in Kobe, but that doesn't excuse the bad metaphor.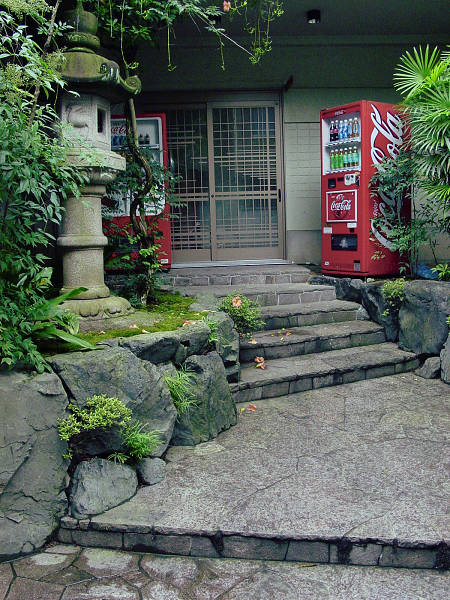 Welcome To Japan,
Rob O'Bannon
,
2002
The above is the photo Rob took from Kyoto which, for him, captures the essence of Japan--two Coke machines in a manicured garden in the ancient city of Kyoto. While abroad Rob has become an avid photographer--more of his work may be found
at his site
.