Today I have to dig back into it on the HBO project, but before I go underground a quick series of pictures, taken from our flat's window yesterday when the opening festivities for the festival were underway. It was so great to be able to watch a parade from our window--I've never gotten to do that before, and it beats standing on the street by a mile.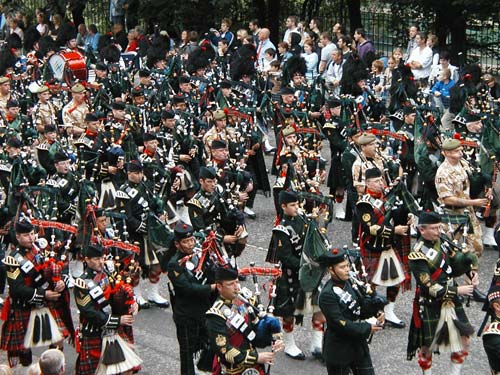 Here we have ream after ream of Scottish bagpipers in their kilts, doing their thing. The sound is surprisingly melodious, presumably because they know how to do their jobs.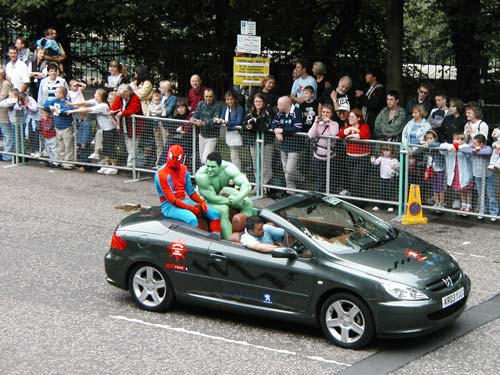 Is there no parade safe from the terrible imperialism of American propaganda, with your "rock" music and your "comic" books?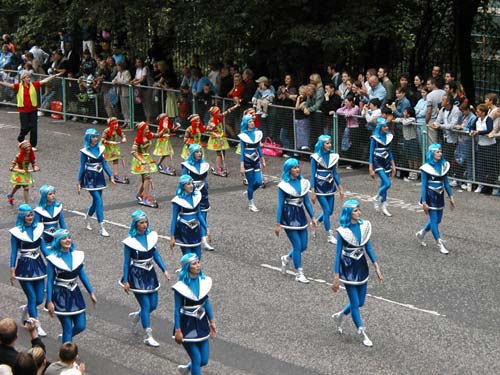 Blue, ain't they? No idea who the hell they are, but they paled in comparison to the Bangkok Girls of Thailand, a cross-dressing posse of sex dancers that drove the crowd of parade-watchers WILD!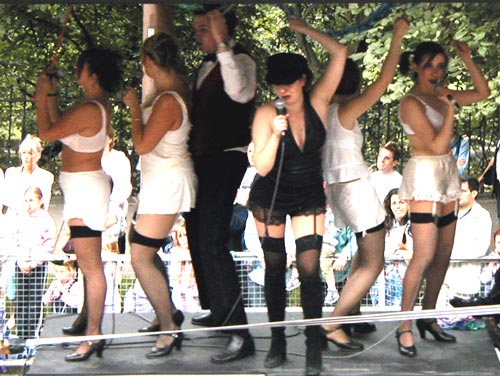 In a similar vein, here's a version of Cabaret being performed exclusively by 12 to 14 year olds. In American, this is pedophilia, but in the UK it's par for the course--I cannot count how many 7th graders I've seen in stiletto heels with bare midriffs, prowling the chilly Edinburgh night, looking for love or help with their pre-algebra.
That's all for now.
Oh, one more thing--be advised that in the nightclubs, everyone goes crazy when "Rhythm Is A Dancer" comes on, or when a "Grease" medley plays. It's somewhere between 1982 and 1997, bouncing back and forth at random but only hitting the very tackiest points between. I love it.