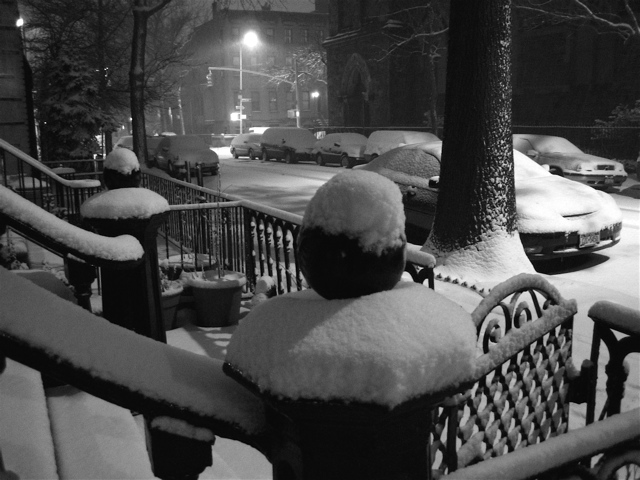 This is the view, just outside our door tonight. They say it will come down all night long, and I'm grateful it waited until now, so that we didn't have to contend with it Saturday night.
The show has opened--and we seem to have survived. The house still looks as though a storm has passed through, and I hope that we'll get to dig out over the next few days. Right now as I'm typing this Jean-Michele is behind me on the bed, reading a book with Baci asleep beside her. I should go there soon.
Friday the show had its first preview--a small house, brought low by the bitter cold, but a very noble group of folks who endured a very cold theater for the show. We got through Friday, and Saturday morning we got up, did 3 hours of notes, and then I did a rebuild on the entire outline--there's nothing like a very challenging first night to help you see where the weak points live in these stories, where I hadn't sufficiently fleshed out the frameworks.
Then, Saturday--opening. The show was very different, opening up under the extra energy of a larger house, and the threads wove truer than they did the night before. It helped immensely that there was more heat--I think we have that issue licked--and lots of niggling issues were finally wrapped up, some just minutes before the run.
And the audience--that was real generosity, and I'm in their debt. The show ran a little long, a byproduct of so much fantastic energy and me finding my way, but I can totally see where the edges and spaces are, and I'm looking forward to the work ahead. That was a fine, fine opening.
In a related Monopoly! note, there's a mention of the show in the Seattle PI today, in the business gossip pages--it's the
second item down the page
.
Now I need to get to bed.