Less than two weeks remain for
ALL THE FACES OF THE MOON
. We've had incredible reviews and
over 50,000 downloads
—this is your last chance to be a part of it live!


Purchase tickets to All the Faces of the Moon

(Members of this list can use the code
DAISEY
for $20 tickets.)

Here's a crazy statistic—if every person downloading the show were in the theater, we would have performed
294 sold out performances
already, and had to be running for
ten solid months
instead of just over two weeks.


Subscribe to the podcast in iTunes

Or go to
mikedaisey.com
and listen on the web.

You can come be part of these shows as we race to the conclusion of this theatrical novel. Every chapter stands on its own...after all, the critics only saw a few nights, and here's what they thought: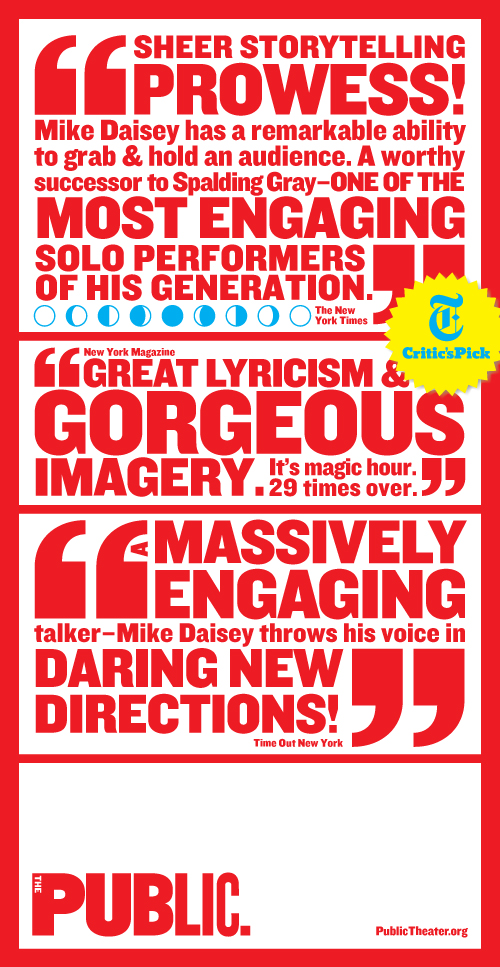 This has been a life-changing experience for us, a marathon where we have been writing a huge novel in real-time. I'd like to thank so many people who have been in the theater night after night, and listening from all over the world. We could not be doing this without you.

Be seeing you,

md
ALL THE FACES OF THE MOON


Created and Performed by Mike Daisey
Directed by Jean-Michele Gregory
Paintings by Larissa Tokmakova
Assistant Directed by Tessa Siegel
Photographs by Sabrina Fonseca


The Final Performances:

Sept 23 - The Untitled

Sept 24 - Temperance Under the Gun

Sept 25 - The Devil Always Plays to a Draw

Sept 26 - Paying the Rent in the Tower of Song

Sept 27 - Saturn Is a Father Devouring His Children

Sept 28 - If You Wish Upon a Star You Will Regret It

Sept 29 - The Moon Is a Harsh Mistress

Sept 30 - The Sun Is a Blind and Burning Thing

Oct 1 - A Flaw in Your Judgment

Oct 2 - The World Is More Than We Will Ever Know

Oct 3 - Last Call